Handling Vulnerable Callers
Duration: 3h
Delivery Method: Virtually 
Course Capacity: 16
Many organisations have call operators who handle daily, many vulnerable callers. Some of these callers are deeply distressed, angry, confused, or desperate. The nature of your role or business means that you will encounter very challenging situations. Callers may even threaten suicide. How do you respond to these challenges? How do you prioritise your responses and what should you do? Operational policies are sometimes vague about what to do or say, so providing some training around this difficult issue is essential.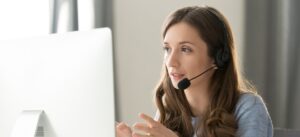 Dealing with challenging situations on the phone may leave you feeling upset, angry, or deeply uncomfortable. This can be damaging to your own mental health, particularly, over an extended time, so knowing how to protect yourself is also important. Employers have a very clear duty of care towards their call handlers and must understand the risks to which their employees are exposed.
This three-hour workshop will improve awareness and confidence around how to manage vulnerable callers, how operators can protect their own mental health and build resilience.
This session will help you to:
Gain knowledge and confidence in positively managing difficult calls.
Improve understanding of caller vulnerability, prioritisation, and effective signposting.
Understand compassion stress, secondary trauma, burnout, and the importance of professional boundaries.
Learn about personal resilience and how to build effective coping mechanisms.
Recognise when to seek help and how to access internal support structures.
 
Since introducing this course, we have tailored content to organisations, at their request. Different organisations manage callers with different issues.  Similarly, some people may respond in different ways.
There are currently no events.